Which is better? Sunrise vs. sunset photography
It's not easy to choose between Sunrise vs. sunset photography sessions. Here in Hawaii, the sun is bright and powerful starting at 1- 1.5 hours after sunrise up until 1 – 1.5 hours before sunset so I work my sessions into the times where I know the gorgeous Hawaii sunshine will be working with you, not against you! I want you to look your best and I also want you to get a gallery of gorgeous images that look like the work you see in my portfolio.
This is why we only schedule photo sessions to take place twice per day – sunrise and sunset. It isn't that we can't do a session at other times of day, it's that we understand that the light at those times is harsh and unflattering. And girl, we want you to look good!
To see what time a sunrise or sunset session will start, use this website! So now that you understand why I limit my session to these times, let's talk pros and cons of Sunrise vs. sunset photography sessions.
Sunrise Photography Sessions
PROS:
Expect an empty beach! Perfect for those who would prefer as few people around as possible because the beaches are at their emptiest at first light.

Beautiful, soft light. Sunrise light is often very flattering for the first 20-30 minutes before the sun starts getting too bright.

Your session finishes first thing in the morning so you can enjoy the rest of your day without stressing about an evening photo session (or sunburn!).

If you're coming from the East Coast, you may be up super early anyway during the beginning of your vacation – so sunrise may be perfect for you.
CONS:
Set your alarm! You're going to have to get up early for this one. In the summer months, we're talking about a 5:30 am start time. In the winter months, it's a bit more reasonable at 7 am.
Some beaches aren't open at sunrise so your location choices are limited. (But don't worry, they're still beautiful!)
And here are a few beautiful sunrise photography session images!


Sunset Photography Sessions
PROS:
Golden light EVERYWHERE! The sunsets on Maui and the Big Island are world-famous. If you choose a location where the sun sets directly over the water so your session will be filled with gorgeous golden light.

The skies are at their most dramatic at sunset. Where sunrises are usually a soft blue sky, at sunset if the clouds are just right you may just get some cotton candy skies full of color.

There are more location options at sunset since almost all the beaches in Hawaii are open until the sun goes down.
CONS:
In the summer months, sunset is late in the evening and may require a one-time adjustment in the schedule of little ones. I recommend a nice long nap in the afternoon and backup snacks to avoid melt-downs.

Beaches are popular and busy at the end of the day. I'm used to skillfully navigating the crowds but preparing for there to be more than a few people around.
And here are a few beautiful sunset photography session images!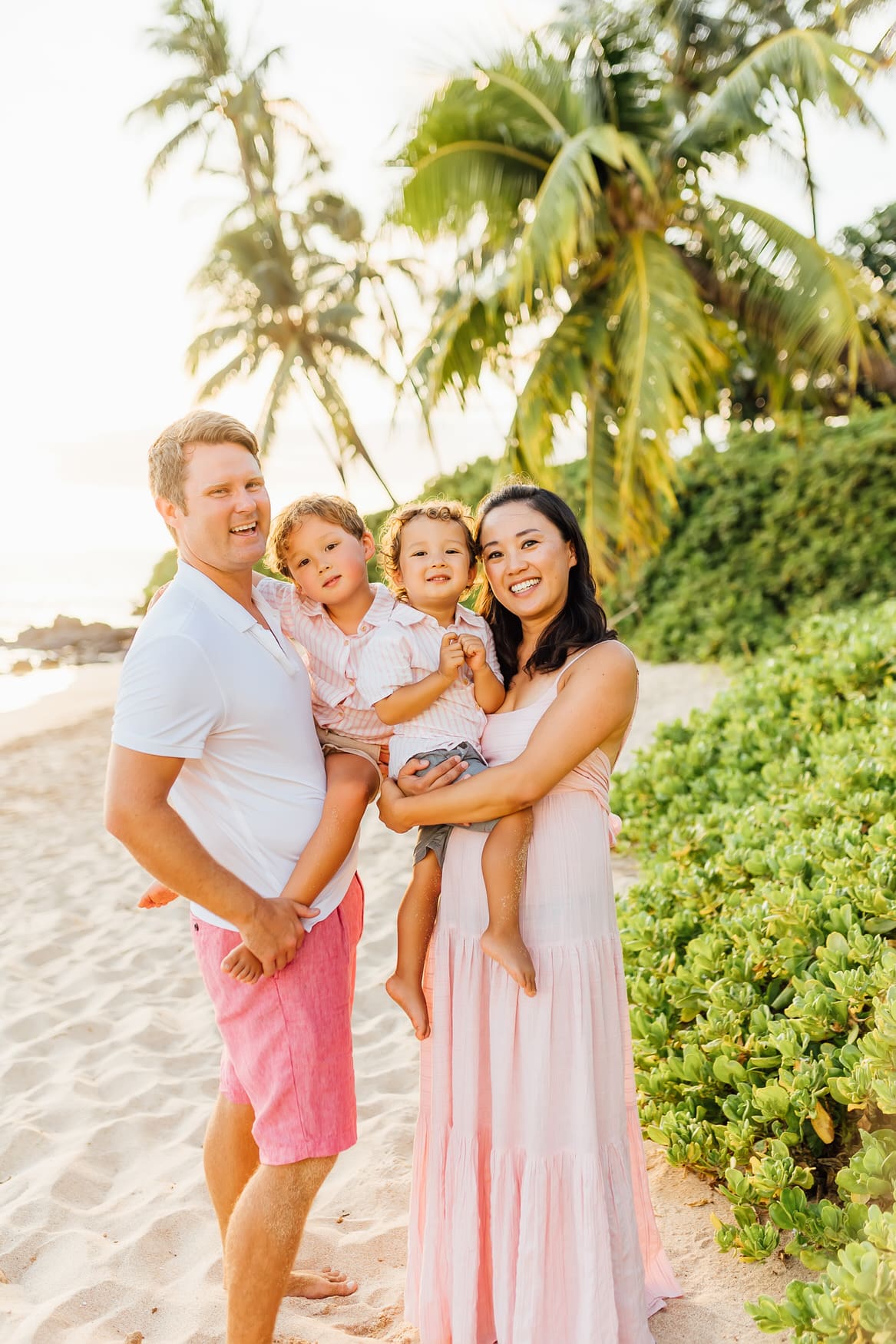 I hope this helps as you are deciding whether to schedule a sunrise or sunset beach session with me. No matter what you decide, I'm here to answer all of your questions and guide you to have the best session possible.
Ready to work together?