Thinking about booking a Hawaii Beach Maternity Shoot? Or maybe you're on the fence about booking one and want to the lowdown on how this all works. Fear not, I've put together a list of my 5 top tips for Hawaii Beach Maternity photography sessions. I've been working with gorgeous mamas to be for many years and these are the tried and true tips to help you have the best photoshoot you can!
See anything I left out? Drop a comment and let me know what I should add to this list!
1. Embrace (and showcase!) your bump at your Hawaii Beach Maternity Shoot
I know it might seem counterintuitive, but for a maternity session, you really want to show off your growing belly. Avoid loose-fitting clothing. The more clearly defined your bump is, the more fun we can have showcasing your changing body. I often have women who feel self-conscious and then reach out to me a few months after they've had their baby and say how happy they are that they captured their pregnancy. Even if you are having a tough and uncomfortably pregnancy (which, I'm so so sorry if that is the case and you can do this!!) with some time you will eventually fondly look back at this time as one to celebrate!
2. What to Wear for your Hawaii Beach Maternity Shoot
As you're thinking about what to wear for your Hawaii beach maternity shoot – consider the location. Is it a big open beach with white sand and a golden sunset? With those colors in mind, you can go about looking for softer neutral tones. This will enhance where you are and not distract from the background. Avoid neon colors and anything with logos or distracting patterns. Subtle patterns are best!
Here are our favorite online shops for maternity dresses perfect for a beach babymoon photo session:
3. Accessorize for your Hawaii Beach Maternity Photos
You're in Hawaii! For a babymoon! Make it tropical, girl!
A haku, or flower crown, is a no-brainer to add to your photoshoot look. From small and dainty, to big and tropical – the great thing about these is you can customize them to compliment your look and style. And I've got a great list of local vendors I can send you to take the guessing out of who to work with. But don't take my word for it, check out these incredible hakus.
Quick tip: Many of these fresh flower hakus will last for several days, up to a week if you keep it in a fridge and spritz it with water daily. So you can take yours home or wear it around for your other island adventure days so you can keep enjoying it long after our session.
Big Island haku vendors we love:
Maui haku vendors we love: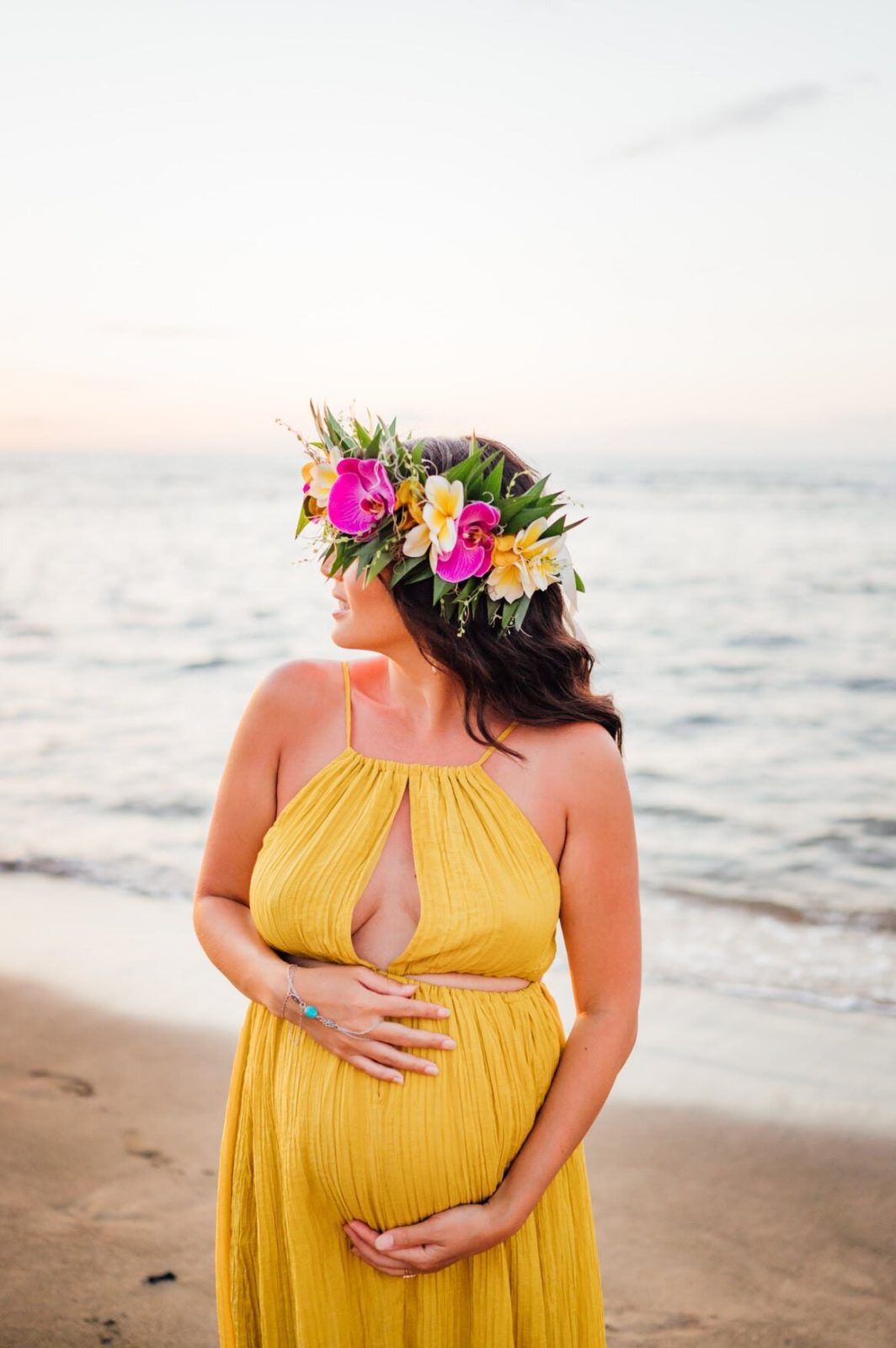 4. Pamper Yourself for Your Hawaii Maternity Photo Session
I'm a top bun, no make-up yoga pants girl myself! So I feel you about not wanting to make too much of a fuss about pictures. However, I will say a little touch of professional hair and makeup goes a long way to making you feel extra special. Especially if you're already uncomfortable in front of the camera. A professional glow-up often just the boost you need to feel absolutely fabulous. And if professional hair and makeup isn't in the budget, then I'd recommend trying out a bit more eye makeup and mascara than usual and giving your hair a nice blowout beforehand. These little details are often just enough to make yourself really pop in pictures!
Quick tip: Local makeup and hair professionals know how to work with the heat and humidity in Hawaii to ensure your look really lasts and doesn't melt off!

5. Enjoy every second (aka get out of your head, mama!)
I'm gonna tell it to you straight – the worst thing you can do at your maternity session is let worry consume you. The second worst thing? Not enjoying the experience! I know you might be nervous, and I totally get it. I encourage you to let go of those and simply be in the moment. And I'll be with you every step of the way to guide you so that by the end, you won't even realize the time has past. So I want you to be completely open to letting loose, splashing in the ocean, embracing that gorgeous bump and getting out of your head. This is YOUR time! You are being celebrated!